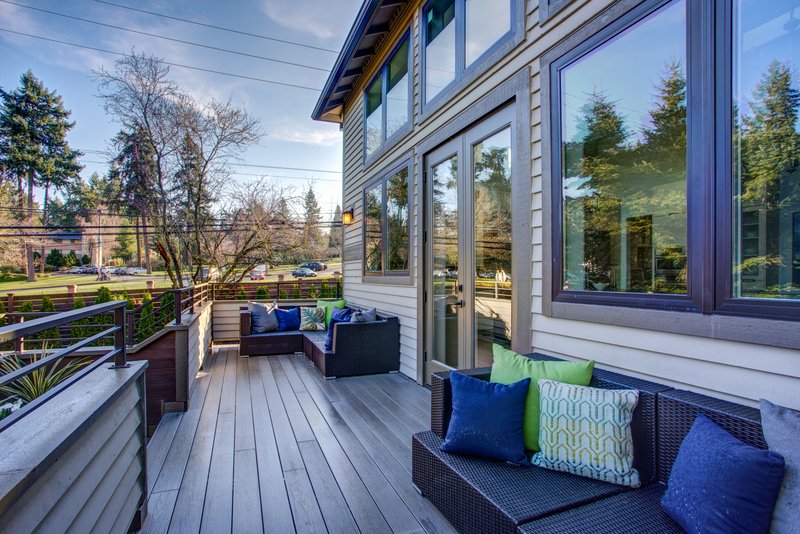 Painting the exterior of your home rejuvenates it, adding curb appeal and making it feel brand new. It's one of the most cost-effective home improvement projects you can undertake. When is the best time to apply exterior paint? There is no universal answer to this question as the timing of the paint application depends upon the weather and the humidity where you live. Adjust the timing of your project around the weather conditions, taking into account the forecast for the few days before and after the day you intend to paint.
Humidity: Paint must be applied to a dry surface so wait at least a day following rain before painting your home's exterior. Be aware that a surface may feel dry to the touch while being saturated underneath. Do a detailed check. If it feels even the slightest bit wet, do not paint. Take into consideration dew as it forms on surfaces overnight and causes the water in the paint to evaporate too slowly. Painting in the rain is never recommended as this can lead to streaks or a spotty appearance. Your local paint professionals can determine when your home's exterior has reached a workable level. Contractors will also know when wet weather is on the horizon and can avoid it as necessary.
Temperature: Hot conditions cause the paint to dry too quickly leaving brush marks and clumps of paint on the surface. Painting when it's too cold makes the surface vulnerable to collecting dirt, insects and pollen and results in poor adherence leading to cracking and peeling. Cool temperatures also make it difficult to apply multiple coats as the paint needs warmth to cure. If not properly dried between coats, blistering and bubbling result. Experts recommend that you apply oil-based paint in temperatures no lower than 4.5°C and latex paint in temperatures no lower than 10°C. It is recommended that air and surface temperature should not exceed 32°C when applying oil-based paint and 29°C when using latex paint.
Temperature and humidity have an impact on the way paint settles against and adheres to your home's exterior. Therefore, the best time to apply exterior paint will depend on the climate where you live. Professional exterior painters understand this and can advise you on the best times and days to paint your home's exterior.
Thinking of painting the exterior of your home? Call the Calgary residential painting experts, Cal Res Coatings at (403) 835-4817. We're a residential painting contractor that strives for quality, has an eye for detail and colour, and will not rest until your job is done to your satisfaction. Request a free quote today.