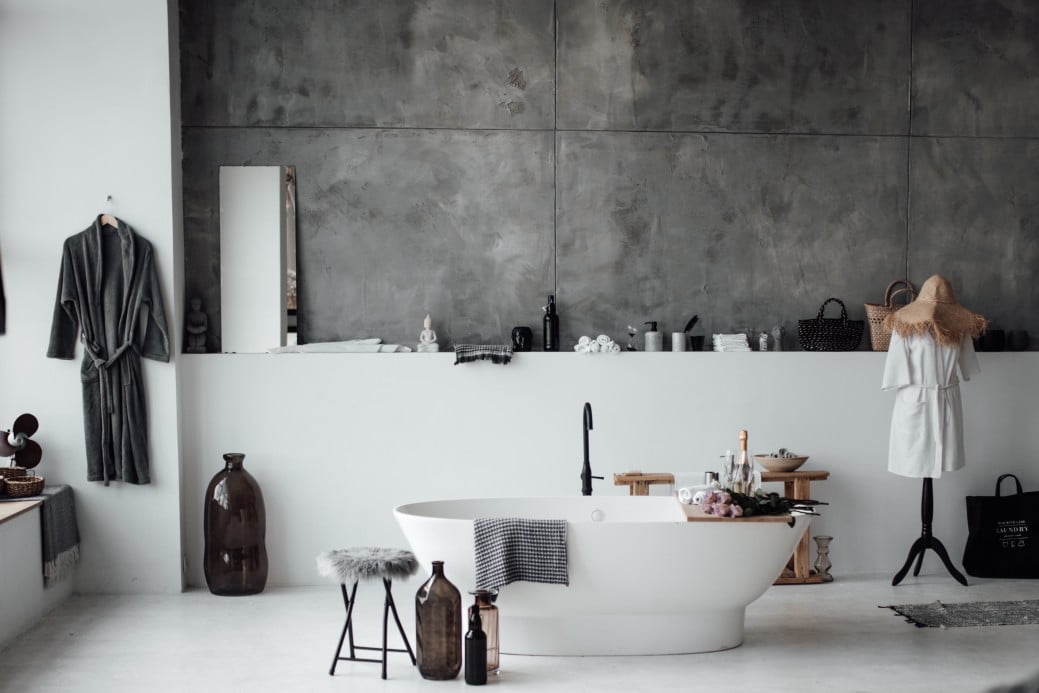 Concrete is a strong and reliable building material that is used for garage and basement floors, concrete walls, patios and pool decks. However, it transports moisture, absorbs paint and expands and contracts with temperature changes making it a challenging surface to paint. Yet painting is a good idea as paint protects concrete surfaces from fluids, resists stains, provides a non-slip surface and spruces up the appearance. So, what's the best paint for concrete?
Types of Concrete Paint
Choosing the best paint for concrete can be difficult as you need paint with an elastomeric formulation to meet the challenges of expansion, contraction and harsh conditions. There are only a few types of products suited to painting concrete.
Acrylic latex paint is a water-based product that mixes and spreads easily on concrete. You can use it to paint floors, walls, steps and other concrete or block surfaces. It requires no special tools and is budget friendly. However, it's not durable meaning that you'll need to repaint every 2 to 3 years.
Epoxy paints are extremely durable, long-lasting and can take harsh treatment. Though they're difficult to spread, the result is a surface impervious to water, resistant to stains, able to expand and contract and beautiful to look upon. Epoxy paints sometimes include aggregate bits that add colour and depth to the finished surface. However, they're more expensive than latex and more labour-intensive to apply as they have two liquids that require mixing before application: an epoxy resin and a hardener.
Masonry Paints, intended for bricks, but also work well on concrete. They contain binders that allow the paint to expand and contract. However, they require time and effort as you need to clean the concrete with muriatic acid, strip old paint, seal and prime before painting.
Concrete Stains look great and work well. These water-based formulas become the permanent surface colour of the concrete. These stains take fewer steps than masonry paint and have many colour options. They're a good choice when the concrete surface is damaged, cracked or too porous to be painted.
Which product should I use?
Where and how you intend to use your concrete paint will determine the ideal product. Keep in mind:
Epoxy paints don't work well on vertical surfaces.
If you're painting an exterior surface, choose a paint with some weather resistance.
For unique colours and effects, choose epoxy.
Glossy paint will reflect light and create a smooth surface that's both durable and easy to clean.
Glossy paint is less likely to show scratches and scuffs but can be slippery.
Epoxy surfaces are naturally glossy and can be buffed.
Latex paint cleanup is a simple process needing only soap and water.
Epoxy paint cleanup requires harsh chemicals.
Epoxy stands up to regular cleaning much better than latex paint.
Latex paint applied to a floor lasts about two years before needing another coat but lasts longer on walls.
A floor painted with epoxy will last several years.
If your concrete is damaged, choose a concrete stain.
Paint makes dull concrete surfaces look clean and fresh. Choose your paint carefully and your concrete will look good for years. However, painting concrete is tricky and takes more work than painting surfaces like drywall and wood. Not up for the job? Call your local commercial painting company. They have the knowledge, skill and experience to make your concrete shine.
Interested in painting concrete walls or floors? Not up to the intensive prep and cleanup? Call the Calgary residential painting experts, Cal Res Coatings at (403) 835-4817. We're a residential painting contractor that strives for quality, has an eye for detail and colour, and will not rest until your job is done to your satisfaction. Request a free quote today.