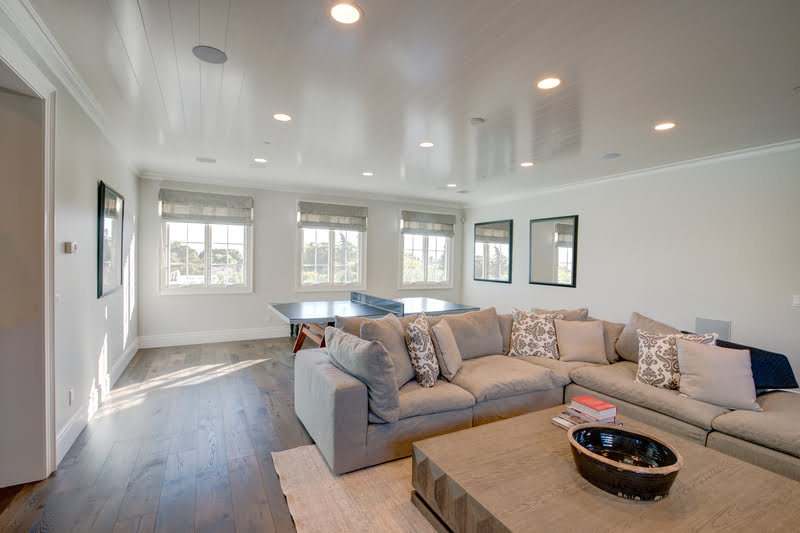 The family room is the most popular room in many homes. It's the space you look forward to spending time in, a spot for friends and family to gather, a place of leisure, comfort and togetherness. The paint colour you use in this room should fit the mood you want to create. Modern and polished? Relaxed and casual? Traditional? Bold and bright? Soothing? The following are some tips for determining what colour is right for your family room.
Consider the light:
If your family room is flooded with sunlight, try a saturated colour with a matte finish to ease the reflections of the strong natural light. Sundrenched spaces benefit from the use of cool colours. Pale blue, tinted white, mid-tone grays, greenish-turquoise and bluish-gray all have a natural cooling effect. If your family room has little natural light, it'll benefit from saturated colours in warm-toned neutrals; lavender, sunny yellow, powder blue, bright orange, soft gray and pink all work well.
Think neutral colours:
Family rooms are often open to other areas of the house. A neutral tone enables you to use colour in adjoining spaces. Warm neutrals will be inviting and cozy while cool hues will lend to a chic, modern vibe. Beige is the go-to neutral creating a minimalistic look. Gray offers a great backdrop for all types of interior design and decor. White works with a wide variety of decor styles, allowing furniture and accents to stand out.
Ponder earth tones:
There's a renewed interest in earth tones in the family room; greens to beiges, blues and even bold colours like tangerine and mustard yellow. They make a great backdrop for indoor plants, colourful furniture and accessories with bold colours. Green is the colour of harmony and renewal and brings a fresh splash of life to a family room. Blue has a calming and stabilizing effect, a stylish choice with a clean, orderly feel. It brings us back to our roots, suggesting shades of the sea and sky. Try a pale icy shade, deep navy blue, or a charming periwinkle.
Dare to be bold:
If the carpet, flooring and fabrics in your family room are neutral, consider adding dimension and interest with a bold colour. Try an accent wall and make it an eye-catching focal point. Paint the remainder of the walls in a lighter version of the accent colour or select a neutral with an undertone that compliments the bold wall. Make your accent wall olive green, persimmon orange or bubble gum pink.
No matter if your family room is for entertaining or relaxing, crafting a well-designed space for family and friends to enjoy can be accomplished through the use of colour. Your colour choice can invite you in and set the tone for time spent there. If you're not sure which colour is right for your family room, talk to your local painting contractor. They have the expertise and experience to not only recommend the best colour but to also apply a quality product that will achieve the results you desire.
Need help choosing a colour scheme for your family room? Want a professional paint job on your family room walls? Call the Calgary residential painting experts, Cal Res Coatings at (403) 835-4817. We're a residential painting contractor that strives for quality, has an eye for detail and colour, and will not rest until your job is done to your satisfaction. Request a free quote today.