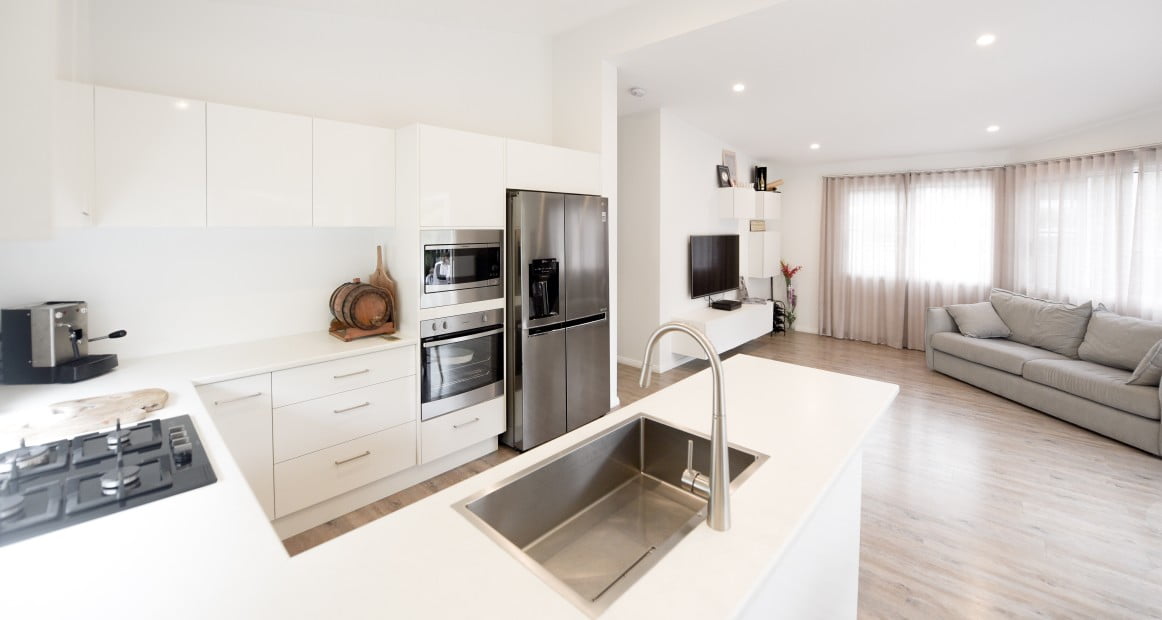 The ceiling, sometimes called the fifth wall, is often overlooked when planning your house colours. This is regrettable as the ceiling represents one-sixth of the space in a room and plays an important role in the overall feel. This wide-open expanse is a tempting blank canvas just waiting for attention and creativity. White is generally considered the safest choice but it's not your only option. Painting the ceiling with another hue is an opportunity to add excitement and drama to your room. The following painting rules and guidelines can help you choose the right shade for your ceilings.
General painting rules for the ceiling:
Light coloured ceilings make the walls feel higher
Dark coloured ceilings evoke a cozy intimate feeling
Bright daylight bouncing off a light hue (light peach, sky blue, very light gray, pale yellow) creates an airy feeling
Candlelight and lamplight create a rich glow when reflecting on a deep hue
Eggshell or satin finish offers a hint of sheen and brighten a space
Glossy finishes show surface flaws, use only on ceilings in near perfect condition
If your room is filled with a bright colour, choose a hue of white for the ceiling
When painting the ceiling of a primary living area (family room, kitchen) a simple white is likely best
If your ceiling is textured or has visible imperfections flat white will disguise lumps and bumps
Dark rooms should have white ceilings to reflect more light into the darker space
Contrasting ceiling colours: Applying a contrasting colour to the ceiling (colours from opposing segments of the colour wheel) alters your perception of the space. Try applying a dark base and then use a glaze of the same colour over it. The glaze softens the effect, and the sheen reflects enough light to keep the ceiling from overpowering the room.
Painting a ceiling a lighter colour than the walls makes the walls feel higher and the space look larger. Whiten your wall paint (80% white to 20% colour) for a simple low contrast look.
Painting a ceiling a darker colour than the walls is ideal for creating drama. For a sophisticated polished look, choose a hue that is two to three shades darker than the wall. Paint a basement ceiling flat black for an industrial feel. A dark colour will make crown moulding and decorative trim pop. A dark ceiling with white walls creates a striking look.
Matching ceiling and wall colours will let the hue completely envelop you. This is perfect for small rooms (bedroom, bath) making them feel modern. In larger rooms, the matching colour unifies the space and focuses attention on furniture, fabrics and decor.
Ceiling colours for rooms with unique architecture: For odd shapes and multi-angled ceilings a same colour approach can simplify the shape and unify the space. For vaulted and cathedral ceilings don't feel compelled to carry the colour all the way to the floor just because there's no crown moulding to define the top of the wall. Tape off the lower section and paint it with a different colour. Keep the dividing line sharply defined and straight. In a room with walls that angle sharply to the ceiling, extend the wall colour up the angled walls to the flat part of the ceiling to keep the room from feeling cramped.
Choose a white ceiling to keep things simple and avoid growing tired of a colour. White ceilings allow your eye to focus on the walls and furnishings and offset an intense wall colour. A white ceiling helps boost illumination by reflecting available light. To choose the right hue of white, pay attention to the undertones. Stay away from whites that have a grey muddiness to them. A white with a yellow undertone adds a touch of sunshine to a dull room. Try it in a basement or where you need to create space and light. It's great for rooms with northern exposures or where sunshine is seldom seen. Consider a white with a touch of warmth. It gives a crisp look and will have a custom feel. White with a pale blue undertone makes the ceiling feel higher. It creates a floating feel, is very versatile and looks great paired with beiges, creams, chocolate browns grey and taupe. White with a hint of taupe is great for highlighting crown moulding, complementing warm neutral schemes and enveloping a room. Consider an antique white for crown moulding. It creates an ambiance that extends to the remainder of the room. Subtle but warm, it goes well with taupes, warm neutrals and deep greys.
The right ceiling colour can transform the look and feel of a room. Show your fifth wall a little love! Contact a professional painter and have them revive your ceilings and enhance the look and mood of your home's interior.
Thinking of changing the colour of your ceilings? Want help picking the perfect ceiling colour? Call the Calgary residential painting experts, Cal Res Coatings at (403) 835-4817. We're a residential painting contractor that strives for quality, has an eye for detail and colour, and will not rest until your job is done to your satisfaction. Request a free quote today.