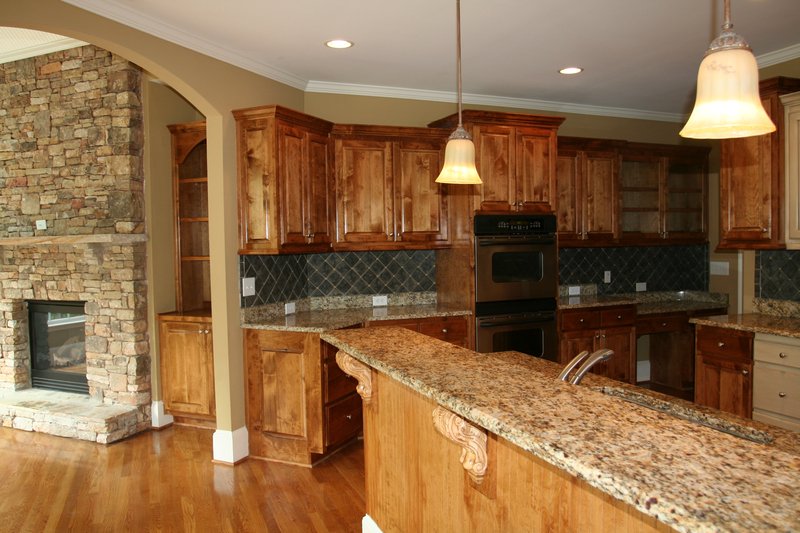 The kitchen is the busiest area of a home. It's the central gathering place where people come to talk, do homework, prepare and eat meals. You want the colour of your kitchen to make the users, the cook and diners feel comfortable and welcome. There are a number of fixed elements to consider when choosing the colour of your kitchen; the countertop, backsplash, cabinets and flooring. What colours work best in the kitchen? You can't go wrong with white, gray, blue, red, yellow, green and brown. Each brings something different to your gathering place.
White is a calming colour. Light and airy, it instantly brightens up a kitchen. White energizes a room making it feel fresh and clean. It wakes you up! Choose bright colours or designs for the countertops and backsplash in an all-white kitchen.
Red stimulates the appetite, cuts through the gloom and provides a welcome focal point for the eyes. It comes in multiple shades that can make a kitchen really pop! Try a red focal wall. Consider cranberry red cabinets paired with neutral countertops.
Gray is a neutral colour that can work wonders in a kitchen. It pairs with a wide array of colours including raspberry, pumpkin and yellow. Use soft gray to ground the space and create calm. Try it as a cabinet colour or pair gray walls with navy blue cabinets for a sophisticated look.
Yellow, like a ray of sunshine, instantly brightens up a kitchen dispelling any gloom. It has a soothing quality, calms people and makes them feel hungry and happy! Yellow can make a small kitchen seem larger. It pairs well with white and gray accents and complements most wooden cabinets.
Green is a soothing colour that lends an earthy feel to a kitchen, especially when paired with wooden accents. Mint and apple green work well with white appliances and wood cabinets. Be adventurous! Try emerald green for a jolt of energy in the kitchen. Use it on an accent wall, the cabinets or the island.
Brown reminds us of the earth, the place our food comes from. It's the new neutral and works in many kitchen spaces. Walnut brown cabinets are an instant hit in any kitchen. Lemon yellow and chocolate brown are a perfect mood lifter. Black and brown make a bold modern statement. Green and brown give a fresh organic look while maroon and peanut brown create a fashion-forward statement.
Blue is not often thought of as a kitchen colour but used sparingly and in the right shade, it can be invigorating and sophisticated. Light shades of blue create a crisp, clean look when used on walls, cabinets or even the ceiling. Dark blues work well when they are accented with hints of white, gray or neutral tones. Some shades of blue give a kitchen a retro feel. Crisp blues paired with white create a beachy vibe and robin's egg blue pops when paired with wood cabinets. Navy blue for the kitchen cabinets or the island gives a modern and striking effect. Just be careful not to overdo blue in the kitchen as it can feel too dark and intense.
Painting is the quickest and least expensive way to update your kitchen. The right colour can bring together the existing features of your space, giving your room a whole new look. If you're unsure what's the best colour for your kitchen, talk to your local painting contractor. They have the expertise and experience to not only recommend the best colour but to also apply a quality product that will achieve the results you desire.
Need help choosing a colour scheme for your kitchen? Want a professional paint job on your kitchen walls? Call the Calgary residential painting experts, Cal Res Coatings at (403) 835-4817. We're a residential painting contractor that strives for quality, has an eye for detail and colour, and will not rest until your job is done to your satisfaction. Request a free quote today.