What you need to know about refinishing your cabinets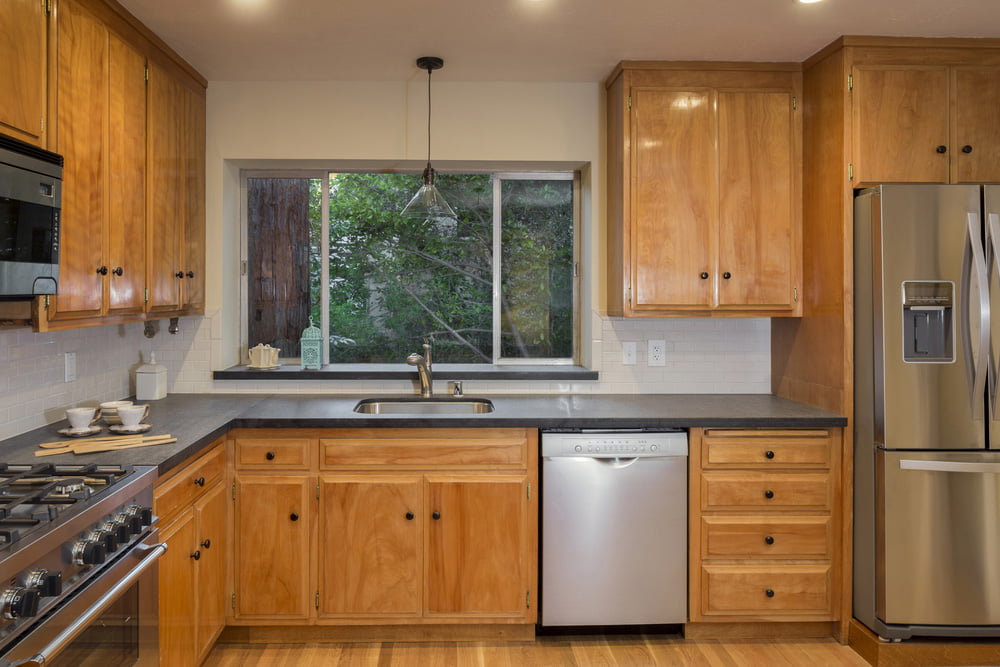 As your home ages and your tastes change the kitchen (often the room you use the most) can date a home more than any other room. Most times the cabinet finishing is what gives it away.
Over the years both designer and home-owner preferences have shifted to darker wood cabinets or even solid colors. Despite our distaste for our dated kitchens we often suffer silently as the cost of changing cabinets these days seems outrageous. Cabinet refinishing can present a cost effective way to address the problem.
What colors can be achieved through cabinet refinishing?
It really depends on three factors; do you want a stained look or a solid color look, what color are the cabinets now & to what depth of color are you willing to go?
The range of color if you want to maintain a stained look is limited, but as you go darker there are more options. If you choose a solid color finish the number of colors is limitless.
How do you darken the wood on your cabinets?
As with any job preparation is critical to the durability and finish. The first step in cabinet refinishing is to sand the top coat to ensure adhesion. Second, is to clean thoroughly with lacquer thinner; this step is to remove contaminants from the surface that may react with the product to be applied. The final step in preparation is to mask any areas we do not wish to spray (for this we use solvent resistant tape, paper, & poly).
Application involves numerous coats of shading lacquer; a product which has a lower concentration of resins and solids and a higher concentration of solvent. The number of coats is dependent on the depth of color desired. Once the desired color has been reached it is time to do a final sand (with 280 or 320 grit) and clear coat.
How do you change from stained cabinets to solid color cabinets?
The initial preparation remains the same as for darkening the wood but depending how well the wood was sealed previously will dictate whether one coat of PX primer (a high-build lacquer based primer) will be sufficient or if it will require 2 or 3 coats of primer. Sanding between primer coat and 2 finish coats of (varying degrees of sheen) lacquer will be required.
Either way you choose your kitchen will look more modern at a fraction of the cost of new cabinets.
For further questions e-mail jlamoureux@calibregroup.ca