What Makes For a Quality Paint?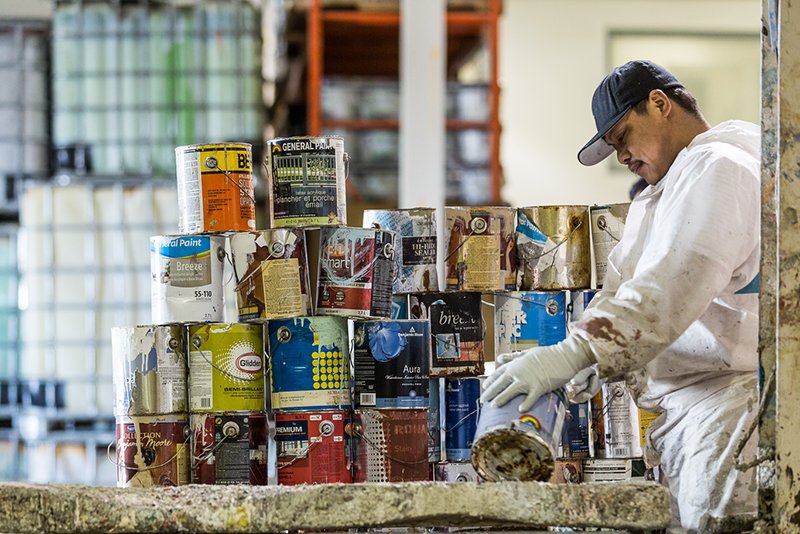 3 Essential Criteria for Selecting Paint
There are three criteria with which we evaluate paint to determine its suitability and thus quality for an application:
1. Application
2. Durability
3. Aesthetic
QUALITY PAINT APPLICATION:
The place to start for determining what paint to use is to answer the question "what is being painted?" Paint is classified as either interior, exterior, specialty usage or suitable for both interior and exterior. Interior paints and finishes require stable temperature and moisture conditions to perform properly, they tend to be harder finishes. Exterior paints and finishes are designed to work in a setting where temperature and humidity fluctuates, they tend to be more flexible finishes. Interior/exterior paints and finishes blend properties from both, as such they will perform OK but not excellent in the different environments. Specialty paints and finishes are those designed for a very specific application such as hard wood lumber stain, intumescent paints and finishes (fire retardant), adhesion promoting primers, etc. Technical Data Sheets will recommend the type of things you can paint with a certain type of product.
QUALITY PAINT DURABILITY:
Durability is the ability to withstand wear. In order to determine durability of a paints and finishes we must consider its use. It is easy to think the harder the product the more durable it is. However, the harder a finish is the less flexible it is and the more susceptible to moisture it is. For example, lacquer is an extremely hard finish, and is great on cabinets, it can last for upwards of 15 years if done properly. This is due to the fact that the surface it is on and the environment it is in is highly stable. If lacquer were used outdoors with would likely not last more than a year because of the expansion and contraction of exterior building materials. As a general guideline the following paints are considered durable on the respective surfaces being painted:
Trim & Doors – Lacquer, Alkyds and Enamel Paints
Interior Walls – Acrylic-Latex Paints & Vinyl Paints
Ceilings – Acrylic Latex & Vinyl Paints
Cabinets – Lacquer, Alkyds, Enamels and Conversion Varnish
Exterior Stain Grade Lumber/Millwork – Oil-Base Stain, Urethane Reinforced Waterborne Stain, Exterior Grade Polyurethane and Catalyzed Urethanes
Exterior Paint Grade Wood Siding – Hybrid Solid Stain and Acrylic Solid Stain
Exterior Cement Fiber Siding – Urethane Modified Acrylics, Hybrid Solid Stain and Masonry Stain
Exterior Metal – Solvent Based Enamel Paints and DTM (direct to metal) Catalysed Polyurethane
Exterior Wood Trim & Doors – Exterior Grade Acrylic-Latex Paints
Acrylic Stucco – Exterior Grade Acrylic-Latex Paints
Cementitious (Cement-Based) Stucco – Exterior Grade Acrylic-Latex Paints and Elastomeric Coatings
Fiberglass – Urethane Modified Acrylics and Catalyzed Urethanes
QUALITY PAINT AESTHETIC
This is where we introduce gloss and sheen. Gloss and sheen levels have a lot to do with the durability as well as aesthetic of the finished product. The thing to remember is that the higher the gloss or sheen level the more flaws will become visible. If you brush or roll the finish, the application method will be evident, i.e., roller texture, brush marks, etc. Physical defects of the surface being painted will also come to light such as grain, joinery, mill marks, bad drywall, etc. Often times Durability and Aesthetic are in Conflict with each other, where a higher gloss would make for a more durable coating, but at the same time would make the finish product visually unappealing as in the case of drywall. Here is a quick reference guide for industry standard gloss/sheen levels for a variety of applications.
Interior Trim & Doors – Satin to Semi-Gloss or 20-35 degrees sheen
Cabinets – Satin to Gloss or 20-50 degrees sheen
Interior Walls – Eggshell
Interior Ceilings – Flat
Exterior Siding – Matte to Satin
Exterior Trim – Pearl to Semi-Gloss
If you would like a consultation on paint selection, we'd be happy to work with you. Please contact us for more information.