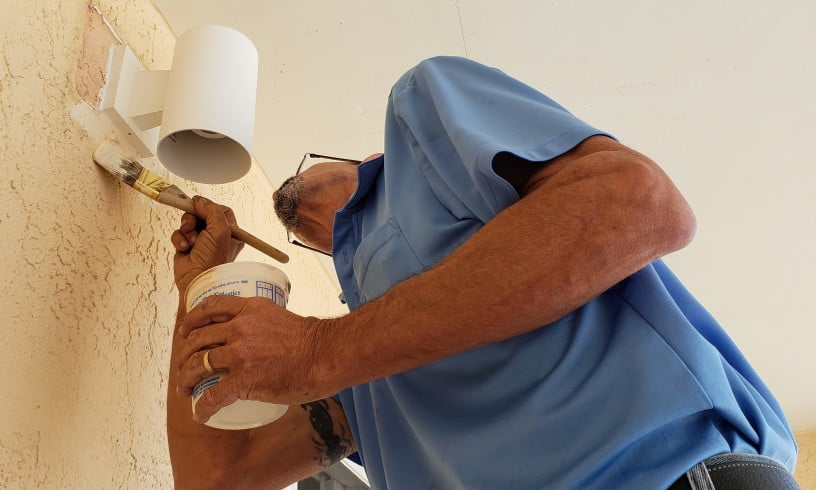 Caulk is a waterproof filler/sealant used in building work and repairs. It comes in a tube and is most often used by plumbers and carpenters for sealing cracks where air or water might seep through. Paintable caulk is a particular kind of sealant that binds to paintable surfaces and covers easily with paint allowing you to create a seamless finish. Though caulk should not replace tight-fitting joints, it makes painting projects look smooth and continuous. Use it for all interior and exterior seams and joints on trim and moulding.
Types of paintable caulk: Though you need to be a chemist to understand the fine distinctions, there are differences between the types of paintable caulk. One type may suit your needs better than another.
Acrylic-latex caulk is an inexpensive, fast-drying, general-purpose caulk that is useful for many applications. It's a popular choice for a variety of different materials including metal, wood and tile. Sometimes referred to as painter caulk, it's great for filling small gaps and blemishes that will be painted. Though the label states that it's waterproof, it's best used where it will be protected by a complete coat of paint. Though it can be painted, you may run into the same cracking and peeling problems.
Siliconized acrylic-latex caulk is designed for exterior use. It's paintable, waterproof, has superior adhesion, creates more durable joints, lasts longer, is less likely to crack and tends to be more flexible in low temperatures than acrylic-latex caulk. Use it in the same places as standard latex-caulk as well as for exposed applications that need moderate waterproofing.
Polyurethane caulk is one of the best choices for sealing the exterior of your home. It's paintable, UV resistant, flexible, expands and contracts with temperature changes and can be used on metal, wood and glass. However, it's expensive and its thick texture makes it difficult to work with.
The best caulk for your home depends on the area you will be sealing, the material you want to bind together, the size of the crack or gap you need to fill, and whether the caulk needs to be paintable. Choose a high-quality product for the best results. If you're not sure which caulk is right for your painting project, contact a professional painter. They will have the knowledge, experience and expertise to choose the best products and give you a great paint job that will last for years.
Need help with a paint job? Not sure which products are right for your project? Call the Calgary residential painting experts, Cal Res Coatings at (403) 835-4817. We're a residential painting contractor that strives for quality, has an eye for detail and colour, and will not rest until your job is done to your satisfaction. Request a free quote today.