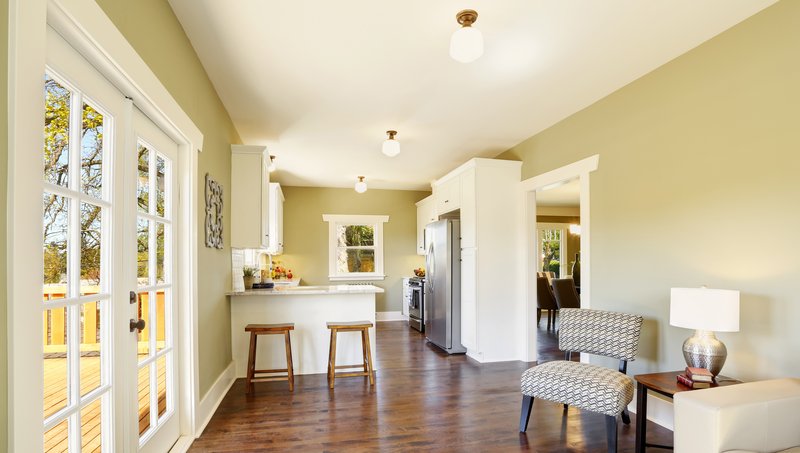 After being cooped up for the last couple of months staring at the same four walls, you may have the urge to give your home a fresh look. Pinpointing the perfect colour for your space can be tricky. Before you pick up a brush or roller, have a look at the colours and colour combinations that are popular this year.
Blue: The colour of 2020 is a deep dark shade of blue. This solid and dependable hue is restful, relaxed and tranquil. It works in traditional or modern homes creating a cozy and welcoming feel. Pair this classic shade with corals, pinks, champagne and orange.
Champagne replaces the cool greys that have dominated interior design for a long time. This natural tone feels warm and calming and adds an earthy touch to your space. Pair champagne with bold materials and metallic accessories of gold and silver.
Golden yellow brings a lively, energetic feel to any room. It's refreshing, optimistic and happy. Use it in nurseries, workspaces, bedrooms and living rooms. Be careful! Too much is overwhelming. Try it on an accent wall.
Olive green is popular for 2020. It reminds us of nature, creating a serene and nurturing environment. Enliven it with pops of white or use it with ebony for warmth and drama.
Pink isn't just for the nursery! Refreshing and airy, pink is an alternative to white and beige and flows well with many colours. Pair it with cinnamon, saffron or parchment. Combine it with a shade of green or blue. Use it in living rooms, bedrooms and kitchens.
Dark red brings sophistication and warmth to your home. Use it as a predominant or an accent colour. Combined with other shades of red, it creates a beautiful atmosphere.
Charcoal is chic and intimate. It can be used as the main colour or on an accent wall. Pair it with other shades of grey to add visual interest and depth to the bedroom, kitchen or bathroom.
Mango is bold, fun and energetic! A little goes a long way! Use it as an accent colour in your living room or dining room.
Warm Cream makes you feel grounded. This natural earthy tone has been extremely popular in 2020. Pair it with terra-cotta, linen or stone.
Dusty Teal is deep and calming. This amazing neutral pairs well with camel, rust, navy, peach and pale woods (white oak and birch).
Colour has the power to transform a room. It sets the tone, mood and ambiance of a space. Use paint as an inexpensive way to bring colour to your home. Incorporate the latest design trends into your home by trying the colour trends of 2020.
Ready to use the colour trends of 2020 to liven up your home? Call the Calgary residential painting experts, Cal Res Coatings at (403) 835-4817. We're a residential painting contractor that strives for quality, has an eye for detail and colour, and will not rest until your job is done to your satisfaction. Request a free quote today.