Top 5 Kitchen Cabinetry Finishes for 2019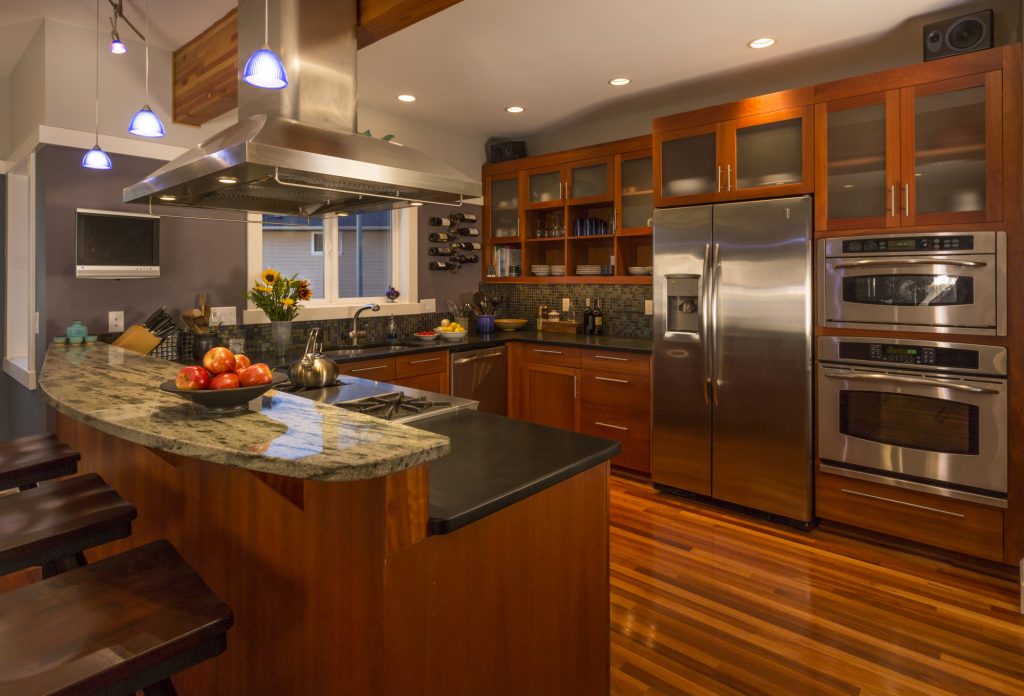 So, it's time to spruce up your kitchen?
One of the most striking details in the kitchen is the cabinets. Given that they occupy the largest vertical surface area in the kitchen beside the walls, you want to make sure the finish is perfect.
But what are the top 5 kitchen cabinetry finishes for 2019? We've got all your answers right here.
Top 5 Kitchen Cabinetry Finishes
We've put together our top 5 favorite kitchen cabinetry finishes for 2019. We've chosen a great mix of rustic and contemporary finishes to suit all tastes. You might even find that a refinishing your cabinets properly can add value to your home.
Take a look below and see if your dream kitchen cabinetry finish makes our list.
Paints
A classic finish type for many of the world's kitchens, paint is infinitely customizable to suit almost any design. According to hardware store Lowe's, wood cabinets are ideal for painting as they can be easily sanded and prepped for the paint.
The hard part might be choosing the right color. If you want to stay up-to-date then you will need to know the trendiest kitchen cabinet colors for 2019. You might be happier with a more rustic finish, however. That brings us nicely onto our next category.
Stain Finish
A hand-rubbed stain over a professionally finished wood cabinet can transform the look of tired old kitchen cabinets. The beauty of finishing your kitchen cabinets with a stain is that, like paint, you can choose from a huge variety of colors.
Another benefit of stain finishes is the preservative effect it can have on your wooden cabinets. According to the New York Times, stains can be used to protect from the harmful impact of sunlight and from insect or even fungal damage.
Foils and Acrylics
If you are looking for a glossy finish but want a more modern and contemporary look, then a thermofoil or acrylic finish might be for you. Also available in a wide range of colors, thermofoil is a type of laminate coating that is fused to the surface of a cabinet with high pressure or heat.
While they are relatively low maintenance due to their wipe-clean nature and stain resistance, they are not especially resistant to heat. Acrylic, by contrast, is often more expensive but does not tarnish or de-laminate. Both options have the advantage of giving kitchen cabinets a modern aesthetic.
Weathered
A weathered kitchen cabinetry finish is deliberately designed to make your cabinets appear worn or aged. Weathered finished cabinets can be made to appear like they've been exposed to years of sunlight.
In addition, weathered kitchen cabinets can be finished with a unique texture to further add to the effect. In stark contrast to the finishes we've mentioned before, they can be rough to the touch which further adds to the vintage nature.
Antique/Heirloom
A relatively broad term, antique or heirloom finished cabinets are often a derivative of stained finishes. The cabinet is finished in such a way as to give the effect of age or antiquity.
This type of cabinet finish can give a more rustic or characterful look to the wood. It is common to soften the corners of doors and edges of the cabinets to further add to the time-worn effect.
Final Thoughts
There are so many different choices for kitchen cabinetry finishes that you really are spoilt for choice this year. Whether it's modern and chic or classic and time-worn, there are options out there to suit all tastes.
Didn't see your favorite kitchen cabinet finish on our list? Perhaps you need some work done in your home? Why not check out our blog for other great articles, or get in touch for all your residential painting needs.