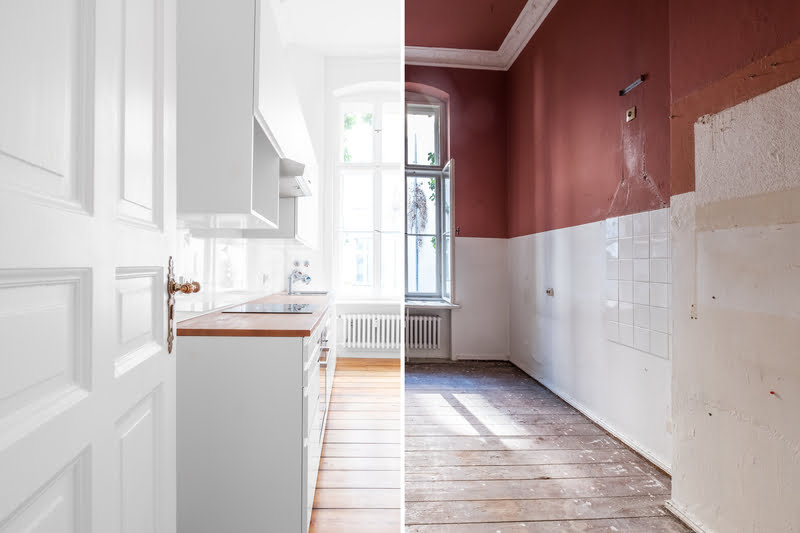 With a rainbow to choose from and a desire to bring your unique personality to every room, picking paint colours for your renovation can be a formidable task! The following are an array of tips and tricks to help you make quick and smart colour choices for your home renovation.
Look at the colour wheel. Colours next to each other are analogous, casual and relaxing, and work well in informal or private spaces. Colours directly across from each other are complementary and bring intensity when used together.
Start with the colour you love and create a colour scheme around it.
For a monochromatic colour scheme, select neutral hues that are all within the same colour family. Mix warm and cool-toned neutral hues in one room. Create bold or subtle variations within that colour group with contrasting paint finishes.
For a bold room, try creating a colour scheme using only primary colours.
Hues that share the same tone create a harmonious colour scheme.
Flat/matte paint absorbs light, creates a smooth chalk-like appearance and is most commonly used for ceilings.
Eggshell paint has a low sheen with a soft smooth finish, is durable, does not pick up dirt easily and works well in living and dining rooms.
Satin paint has a soft pearl-like finish. Its durability makes it a popular choice for bathrooms, kitchens, and kids' rooms.
Semi-gloss paint has a shiny sleek appearance that brightens a room by reflecting light and is often used for doors, trim, moulding, hallways, cabinets, kitchens and bathrooms.
High gloss paint is highly reflective and is generally used for accents (doors, mouldings, cabinets) rather than walls.
Painting large sample squares on the wall will give you the best idea of how the paint colour and finish will look.
If you have an open concept home, decide on a colour to use throughout (walls, hallways, foyer, main living spaces).
Create flow by choosing colours that have the same temperature (warm or cool colours).
Add drama with an accent or feature wall in a shade that is warmer or cooler than your main colour.
Bring coziness to tall rooms by painting the ceiling a darker colour.
Paint the trim the same colour as the walls but with a different finish.
Draw inspiration from the colours of nature.
Match wall colour to a colour in your favourite piece of artwork, patterned upholstery or a colourful rug.
Try using darker colour values for the floor, medium colour values for the walls and light values for the ceiling.
Limit your palette to just three colours.
Consider the mood you want in your room. Soft, cool colours and neutrals create a quiet feeling while stronger colours create drama. Warmer, contrasting colours create a sociable atmosphere. Deep blue-greens and neutrals give a formal ambiance.
Pay attention to your lighting. Natural daylight shows the truest colour. Incandescent lighting brings out warm tones while fluorescent lighting casts a sharp blue tone.
Choosing colours for your renovation can be a daunting job! Consult a professional painter. They will have recommendations for both colour and finish and they can help you choose a paint that meets your unique needs and wants. Above all, have fun! Don't be afraid to try colours you have never used before!
Having trouble choosing colours for your renovation. Call the Calgary residential painting experts, Cal-Res Residential Painting at (403) 835-4817. We have experience with exterior and interior painting. We're a residential painting contractor that strives for quality, has an eye for detail and colour, and will not rest until your job is done to your satisfaction. Request a free quote today.