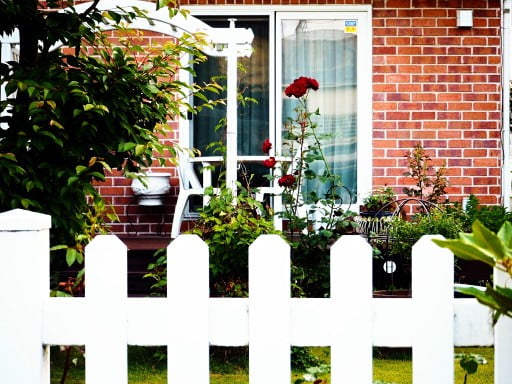 Sometimes brick looks beautiful. Sometimes it's an eyesore! Painting the brick exterior of your home is a quick and inexpensive way to freshen and update your look. If you have an outdated red, orange, or yellow brick exterior, a coat of paint may be right for you. But before you grab your paintbrush, there are some things you need to know.
Painting exterior brick:
Boosts curb appeal and increases your home's value. When painted correctly, brick can create an impressive visual impact.
Provides protection from the elements: Paint acts as a sealant, protecting your home from precipitation and seasonal weather changes and reducing fading and deterioration of your home's exterior.
Makes it easy to clean: The porous nature of brick allows dirt and debris to become trapped making it difficult to clean. The smooth surface of painted brick is easy to clean with an occasional power wash.
Things to consider: Though painting brick can be beneficial, there are some things to consider before you begin.
Painted brick is permanent: Once you paint brick, you can never return it to its original colour. Removing paint from brick is costly and often ineffective. The good news is that you can change the paint colour as often as you wish.
Moisture can be a problem: Trapped moisture will cause paint to lift, peel and crack. It also affects the strength and integrity of the mortar between your bricks. This is especially true of brick that's near the ground.
You may need to clean your brick more often: Though painted brick is easier to clean, dirt and mildew are more visible on painted exteriors. Undertake regular power washing to keep your brick looking good.
Use the correct paint. Brick's porous nature requires a high-quality masonry paint and primer to ensure successful and lasting results. Masonry paint is mineral-based or a silicate paint that's designed to be breathable. A brick stain that penetrates the pores of the brick is another option. Contact your local paint contractor for advice on the best paint products and procedures to use on brick.
Never paint brick that's in bad condition: Painting brick that's chipping, moulding or in poor condition will exaggerate the existing problems.
Professional help is essential: Proper preparation and the use of the correct paint are important to successfully painting brick. A professional painting contractor has the right tools, paints and experience to repair, clean, dry, prep and paint your brick for best results.
Very old brick requires special paint: If your home was built before 1870 there is a good chance that the brick was hand, and not machine, made. This type of brick requires milk paint or lime-based whitewash. Modern paints will harm this brick, possibly causing structural damage.
Painting brick is a simple way to refresh your exterior, create visual impact and increase your home's curb appeal. A professional exterior painter will ensure that your brick is prepared and painted properly so that it looks great for years.
Interested in painting your home's exterior brick? Call the Calgary residential painting experts, Cal Res Coatings at (403) 835-4817. We're a residential painting contractor that strives for quality, has an eye for detail and colour, and will not rest until your job is done to your satisfaction. Request a free quote today.